Fund Raisers
A Fantastic effort today from the Juniors completing their Sponsored Row from Cardigan bridge, around Cardigan Island and back to Aberporth, over 10 miles!
The sea perfect for the occasion but unfortunately 3/4 of the row was completed in heavy rain. Despite this the Juniors and supporting Seniors left in high spirits, made many crew changes and landed on Aberporth beach just gone 1.30pm, completing the row in 3hr 24mins 19 secs. A fantastic result, well done guys!
All the money raised from the row will go towards 'Amanda's Chemo Fund'.  Thank you to all who supported and donated, a fab team effort!
The Aberporth Ladies Fundraisers also held 'Aberporth Olympics' event this afternoon, again all money going towards 'Amanda's Chemo fund'. A fantastic turn out, a great opening ceremony, 10 Olympic events for children, women and men to compete in, followed by a medal presentation.
Well done to all the organisers and helpers for a fantastic community event, all pulling together for a great cause.
Photos of the Sponsored Row & Aberporth Olympics 2012 Press f11 for full screen.
All the money has now been counted, and between the two events we raised over £3000!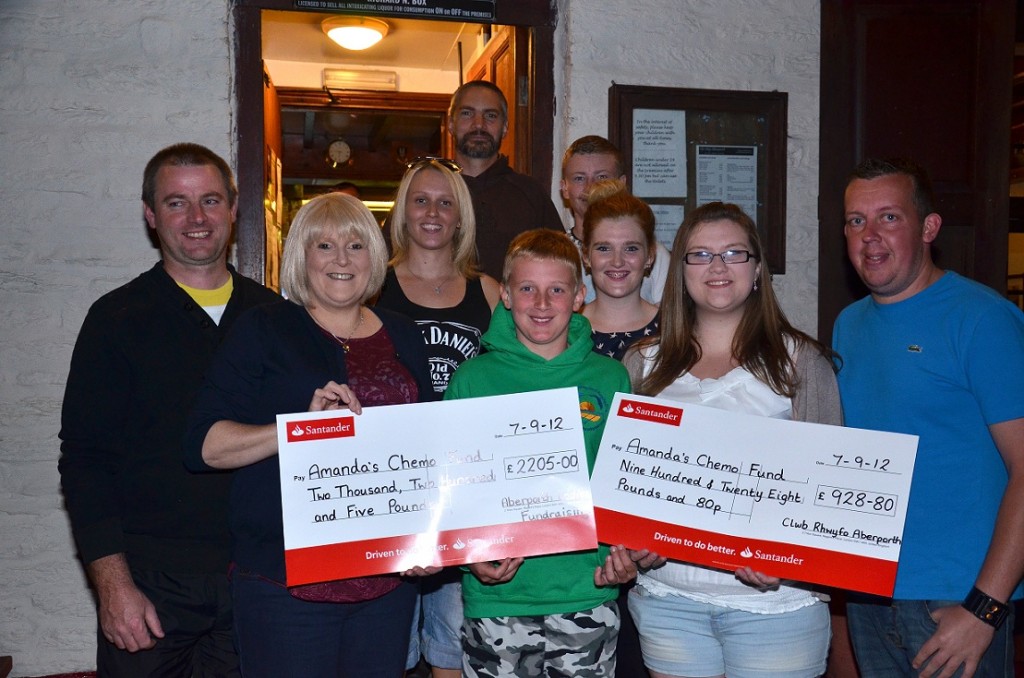 Aberporth Rowing Club are holding our Annual 'Halloween Family Disco' on Saturday 29th October 2011 from 5-8pm at Parcllyn Social Club.
There will be a Disco,  Fancy dress competition,  BBQ, Treasure Hunt, Prize for the best carved Pumpkin (remember to bring these with you), Apple bobbing, Spooky Cakes and Toffee apples. Join us for an evening full of tricks and treats. Tickets on the door, Adults free, Children £2.50 each, to include a drink and biscuit. All children to be accompanied by an adult.

On Sunday 28th August 2011 , August Bank Holiday weekend, we will be doing a 12 hour sponsored row to raise money for the Celtic Challenge in May 2012.
It will be held in Dyffryn car park (opposite the Ship Aberporth)
First rower starts at 8am and last rower finishes at 8pm.
There will be BBQ, Raffle, Cakes, Stalls and a chance for visitors of all ages to have a go on the rowing machine to try and win the 500 meter challenge.
Aberporth Rowing Club's annual walking treasure hunt is on Sunday 29th August 2010 – Aberporth beach car park
Treasure Hunt, BBQ, Drinks, Stalls, Games from 1.30pm
Treasure Hunt starts at 2pm and is suitable for all abilities.
Aberporth weather forecast is good so come on down! Great prizes up for grabs!
Our Bank Holiday weekend Sponsored Row exceeded our expectations as we managed to raise a massive £1053.80!
Oli Box kicked off proceedings at 9am on Sunday morning and Tim Ogilve finished a fantastic days rowing 12 hours later at 9pm.  We managed to row 158,842 meters in the 12 hours which meant Mr J T Bank won 1st price in Guess the distance, Nick Ogilve won 2nd place and Rob Mayer 3rd. Thank you to everyone who entered Guess the distance and everyone who came along on the day to support us. We hope you enjoyed it as much as we did.
A huge thank you from everyone at Aberporth Rowing Club to everyone who contributed equipment, gifts, prizes and time. Special thanks goes to Sheila Williams mi.Trainer, who supplied us with two concept2 rowing machines for the day and who also helped motivate some of us across the finish line.
Well done all the rowers and all the helpers, fantastic day!!!
12 hour Sponsored Row at  Aberporth big  Beach Car Park on Sunday 30th May, starting at 9am. BBQ & Stalls from 12 noon.
If you would like to guess the distance there are sponsor forms in the Ship Aberporth.
For full details visit our Events and Whats on in Aberporth page. Come on down for a fun filled afternoon (not for the rowers!)
Our 70's & 80's night was a huge success with a fab fancy dress turn out. Congratulations to Emma Poole and Ryan James for winning the best dressed competition. Emma wearing original 80's roller girl costume (speech was funnier than your costume!) and Ryan as a full on 70's hippy.
Everyone at Aberporth rowing club would like to say a huge thank you to Sian, Anthony and Parcllyn Social Club Commitee for the venue and all your help and support for the event.  We would also like to thank all the sponsors for you kind raffle donations.
Click on continue reading —> below to view all the photo's from the 70's & 80's Night.
Due to weather conditions on October 25th we were unable to do the planned row from Cardigan to Aberporth, instead we decided to row the equivalent distance up and down the river Teifi.
Four crews all rowed once each up and down the river to complete the distance in a time of 2 hours 8 minutes and 35 seconds. The winner of the £25 Guess the Time competition was Mr David Williams from Tremain with a time of 2 hours 10 minutes. Congratulations to Mr Williams and thank you to everyone who took part.
The club would also like to say a special thank you to Stewart Forsyth & Helen Young for providing the support boat for the event.
Despite the weather we had a fantastic turn out to our August Bank Holiday Treasure and Scavenger Hunt. The teams all set off in fairly pleasant (well, dry) conditions not knowing what was in store. The heavens opened and as the teams returned each was wetter than the last! But with great prizes up for grabs no one was giving in!